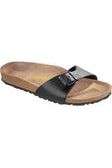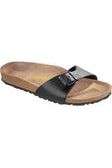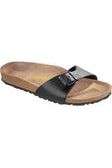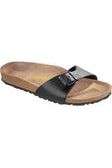 The BIRKENSTOCK Madrid is the oldest member of the family of models, making it a classic. Launched as a "fitness sandal" half a century ago, this simple single-strap model has gone on to become a firm fashion favourite. Its function and design have largely remained unchanged. The special positioning of the strap gently trains the muscles in the feet and calves with each step – the toes' grip reflexes trigger this effect.
Premium Materials
Every pair of Birkenstocks is made from the highest quality materials.
Birko-Flor Upper / Classic Footbed - Suede Lined Birko-Flor is the Birkenstock trade marked synthetic leather. It is a skin friendly, easy care fabric. Clean with a damp cloth.
The essence of all our shoe models is the original BIRKENSTOCK footbed, which is inspired by the natural imprint of a foot in the sand and feels just like walking barefoot. Its anatomical shape ideally supports the natural walking action of your foot. Your feet, joints and back are protected. At the same time, your foot and leg muscles are exercised, and your health and well-being benefit as a result.