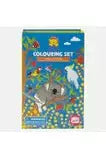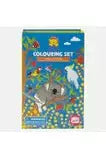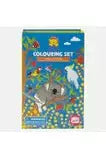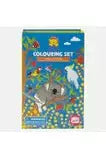 Colouring Set - Aussie Animals
Crikey, it's time for some colouring, we reckon! Kids can colour koalas, kookaburras, wombats and more in this very Aussie addition to our beloved colouring sets. Gumnut, wattle and flowering gum blossom stickers can be added to decorate the artworks to fridge-worthy status. 
Our thoughtfully packaged, premium activity sets are designed for mess-free creative play, keeping little ones engaged and relaxed while travelling on flights, in cars, at cafes or at home.
Classic Tiger Tribe colouring set featuring Aussie Animals
Unplugged, screen-free creative play

Includes 36 illustrated colouring pages, 10 vibrant coloured markers and 5 sticker sheets

All packaged neatly in sturdy, magnetic-sealed storage box (14cm x 21cm) 

Great for gifting

Suitable for children ages 4+